Weidmuller Enclosure
Enclosures fulfil an important safety function and prove themselves every day - even under the toughest conditions. Each industry has its own specific requirements for enclosure technology. At the same time, the enclosures must meet the strict requirements of international approvals. Our Klippon® Protect enclosure system covers all approvals required for use in industrial and hazardous areas. In addition, it can be optimally adapted to your requirements. We complete our offer with individual services in order to provide you with optimal process support.

Weidmuller Explosion Proof enclosure systems product range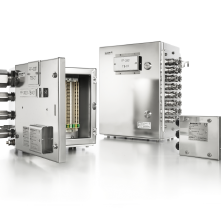 Klippon® steel enclosures
Klippon® steel enclosures provide outstanding high-performance features to satisfy the toughest demands within the harshest environments.
Klippon® aluminium enclosures
The fully featured Klippon® K aluminium enclosures are designed for use in a wide variety of electrical installations - from industrial applications to harsh environmental conditions.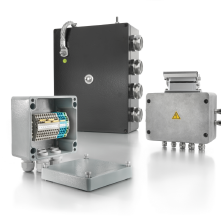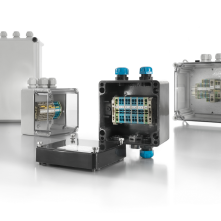 Klippon® plastic enclosures
The polyester enclosures provide a high quality solution for all electrical connectivity applications, including those located within harsh environments.
Modified and assembled enclosures
Power and distribution
For installation of signal and power distribution in explosive risk zones, various types of terminal boxes and junction boxes are available. Due to customised configurations of terminals and cable glands, as well as various earthing options, the Terminal Box will fulfill any installation requirements and is the optimal solution for any application.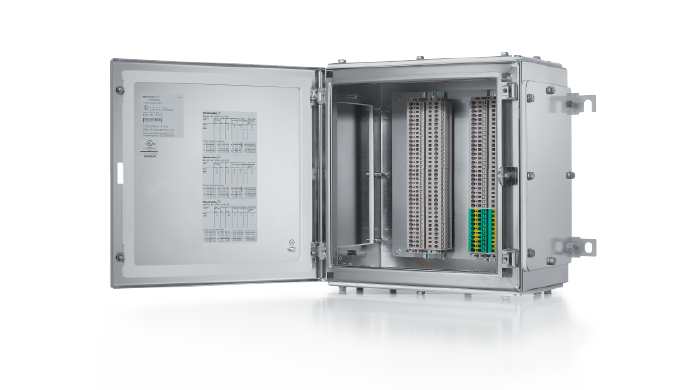 Approved according to the latest ex regulations
Authorised as equipment for use in hazardous areas (Zones 0, 1, 2, and 20, 21, 22)
Certified according to international standards
Explosion protection including Ex e, Ex ia, and Ex tb
Instrumentation and control
Explosive risk zone enclosure assemblies have to withstand immense pressures in the field in order to reliably protect the sensitive electronic and control components from external influences. Our customised control stations combine various control devices and status displays with electronic components in the enclosure.
Your benefits
Various components such as transmitters and fieldbus distributors integrable
Wiring of the connection terminals included
Usable plug-and-play solution with all required approvals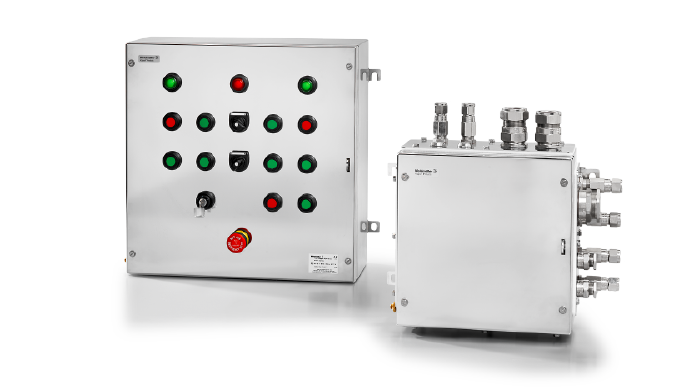 Monitoring and safety
In our electronics box as well as in other ready-made versions, up to 20 signal converters, terminal blocks for connecting devices, and intrinsically safe circuits can be mounted, depending on the enclosure design. The standard version of the electronics box is supplied with ATEX approval and the corresponding marking.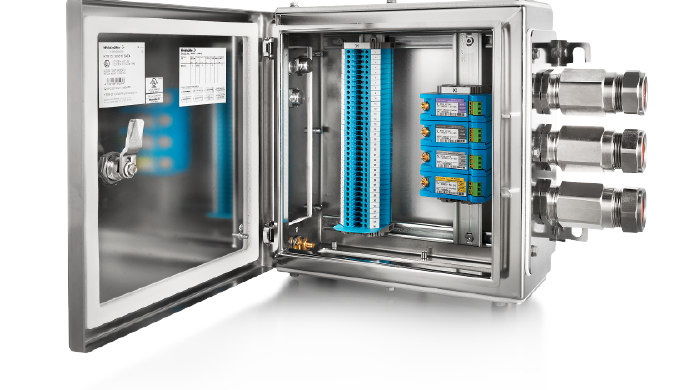 Identification and operation of the devices, optionally with protection types Ex ia, Ex ib, Ex ic, or Ex nA
Completely assembled enclosures available with further international approvals and type-appropriate marking
IECEx, EAC Ex, and NEPSI applicable
Cl. 1 Div. 2 Identification available for use in North America
Interested with this product
Weidmuller Klippon® steel enclosures product range
Klippon® TB: Robust universal enclosures for harsh environments
Klippon® STB: Small enclosures for tiny spaces in harsh environments
Klippon® EBi: EBiRugged enclosures for demanding industrial environments
Weidmuller Klippon® aluminium enclosurese product range
Klippon® K enclosures are extremely robust and impact resistant. Nineteen different sizes and two different surfaces - powder coated and natural - offer maximum flexibility.
Weidmuller Klippon® plastic enclosures product range
Klippon® POK: Klippon® POK enclosures are made from high-quality glass-fibre reinforced polyester. It is suited for applications and environments where corrosion and impact resistance, as well as a high IP protection, are required. The range is also designed and certified for use in hazardous areas.
TBF Polyester enclosures: The enclosures in the TBF range are made from sturdy glass-fibre reinforced polyester. They offer a universal solution for protection of components such as controllers, measuring instruments, valves and other devices. The TBF enclosures are available with either transparent or grey lids.