RTK 725 Range - Programmable Alarm Annunciators
The RTK 725 range of Alarm Annunciators provide the ideal solution to all your alarm system requirements. This innovative and unique design gives exceptional flexibility, reliability and programmability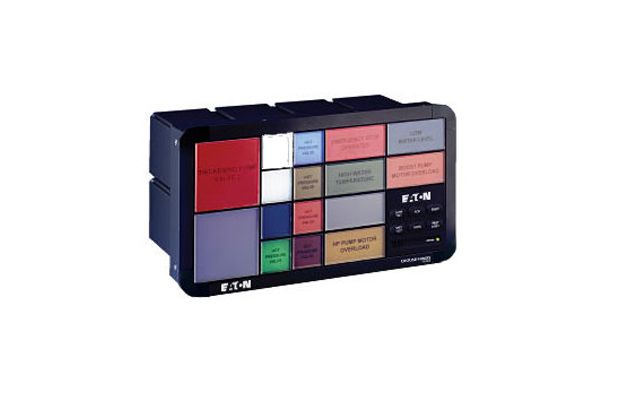 The 725 range of Alarm Annunciators provide the ideal solution to all your alarm system requirements.
This innovative and unique design gives exceptional flexibility, reliability and programmability.
Only 145mm deep
Fully programmable with power applied and without having to remove, lightboxes, backplanes, or alarm cards.
Proven, ASIC-based technology: fewer components means higher reliability
Ultra bright LED's available with six different colour filters
Surpasses the EMC and LVD directives
However simple or complex your alarm requirement the Series 725, with its condensed ASIC technology and "no master module" philosophy, will give the most cost effective solution.
With a range of three window sizes, six colours with ultra-bright LED illumination, a format and size will be available to match your exact requirements.
Each individual alarm way is fully programmable from the front, using the integral programming module. This allows for many different features giving thousands of possible combinations.
Numerous relay outputs are included as standard to connect to external equipment and individual repeat relays can be supplied as an option. The ASIC technology utilised in this design has a proven track record in a wide range of industries around the world.
Please note the part number structure for the P725 Alarm Annunciator has changed similar to the following code (P725-L-3W3H-6T-8A-SL-FC24) please contact Eaton sales for specific part numbers.
Đại lý RTK Việt Nam
Đại lý MTL Việt Nam
Đại lý EATON Việt Nam
Interested with this product
RTKP725 Mechanical Frame Comparison
The RTKP725 frame has been updated to include new mechanical construction that does not impact electrical functionality. This video demonstration shows how alarm card and LED assemblies are backwards compatible from the new to old frame and vice versa.
Product Code
Description
Downloads

 Symbol denotes that the equipment is suitable for use in hazardous area applications.
 Symbol denotes that the product has been assessed for functional safety applications

725  
725 Range - Programmable Alarm Annunciators
Datasheet  Manual  Technical Document