Smart Vortex Flow Meter
SVF128 Vortex flow meter is a smart vortex flow meter utilizing "Karman vortex" theory to measure the velocity of fluid then calculate the flow rate in volume or mass. VFM128 is to use for various fluids such as gas, steam and liquid. The flow meter come with local or remote display and different type output such as 4-20mA, pulse, RS485 ModbusRTU, Hart for easily integrate into any PLC, SCADA, DCS system. The flow meter can be upgraded with latest wireless connectivity such as Sub-GHz, LoRaWAN, Sigfox, NB-IoT, 3G/4G... allow it to connect to any IoT platform such as Globiots, Azure, AWS...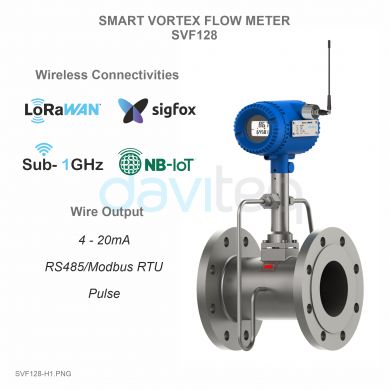 Typical Applications: Saturated Steam, Super-heated Steam, Compressed Air, Liquid, Industrial Gases: Nitrogen, Oxygen... or Fuel Gas: Natural Gas...
High turn down ratio
Super low flow measurement down to 2m/s
Anti-vibration
Unique and patented sensor design to eliminate vibration
Multi-variable Measurement
Volumetric flow, pressure, temperature and mass flow
No moving parts
not worry about mechanical wear parts
Wireless Connectivities
LoRaWAN, Sigfox, NB-IoT, Sub-GHz, 3G/4G...
Interested with this product
Process Fluids
Liquid, Gas, Steam, Compressed Air
Process connection
Flange or Wafer for size DN15~DN300 or 0.5 inch to 12 inch
Local Display
Standard integral LCD display. Optional Remote display with 10m cable
Measurable Parameters of standard version
Volumetric flow rates and totalizer, velocity.
Measurable Parameters of Multi-variables version
Mass flow rate, volumetric flow rate, temperature, pressure, velocity.
Output
Pulse, 4~20mA (HART V5, V7 @4~20mA), ModBus-RTU RS485
Process Pressure
1.6MPa (232 psiG),2.5MPa (362 psiG),4.0MPa (580 psiG),6.3Mpa (913 psiG) for option
Process Temperature
Standard type: -40 ~ 150 °C or -40 ~ 302 °F
Medium type: -40 ~ 250 °C or -40 ~ 482 °F
High temperature type: -40 ~ 350 °C or -40 ~ 662 °F
Gas flow Turndown
DN15, DN20: Turndown ratio 10:1
DN25, DN32: Turndown ratio 15:1
DN40~DN300: Turndown ratio 30:1
Steam flow Turndown
DN15, DN20: Turndown ratio 11.6:1
DN25, DN32: Turndown ratio 17.5:1
DN40~DN300: Turndown ratio 35:1
Liquid flow Turndown
23:1
Accuracy
Gas/Steam: ±1%RD(Re ≥ 20000), ±2%RD(10000 ‹ Re ‹ 20000)
Liquid: ±0.75%RD(Re ≥ 20000), ±2%RD(10000 ‹ Re ‹ 20000)
Repeatability
±0.3% of flow reading, ±0.05 °C for temperature, ±0.05%FS of pressure
Upstream/Downstream required
15D / 5D
Viscosity allowance
DN15 or 0.5 inch ≤ 4mPas
DN25 or 1 inch ≤ 5mPas
DN40~DN300 or 1.5~12 inch ≤ 7mPas
Anti-vibration (both punch and fixed freq)
0.5g
Power Supply
15.5 .. 42 VDC
Ordering Infomation
ITEM CODE
DESCRIPTIONS
Select Vortex Type
 
SVF128-NSVF128-MV
Smart Vortex Flow meter, Standard version, NO temperature and pressure compensation
Smart Vortex Flow meter, Standard version, WITH temperature and pressure compensation
Fluid type
 
-1 or -2 or -3
-1 for Liquid, -2 for Gas, -3 for Steam
Process Connection
 
-WC
-D1
-D2
-D3
-D4
-C1
-C2
-C3
-J1
-J2
-J3
Wafer with carbon steel flanges up to 16 barG (232 psiG) (DN15 ~ DN300)
Flanged DIN PN16 up to 16 barG (232 psiG) (DN15 ~ DN300)
Flanged DIN PN25 up to 25 barG (362 psiG) (DN15 ~ DN300)
Flanged DIN PN40 up to 40 barG (580 psiG) (DN15 ~ DN300)
Flanged DIN PN63 up to 63 barG (913 psiG) (DN15 ~ DN300)
Flanged ANSI CL150 up to 16 barG (232 psiG) (0.5 inch ~ 12 inch)
Flanged ANSI CL300 up to 40 barG (580 psiG) (0.5 inch ~ 12 inch)
Flanged ANSI CL400 up to 63 barG (913 psiG) (0.5 inch ~ 12 inch)
JIS 10K up to 16 barG (232 psiG) (DN15 ~ DN300)
JIS 20K up to 40 barG (580 psiG) (DN15 ~ DN300)
JIS 30K up to 63 barG (913 psiG) (DN15 ~ DN300)
Wetted Part Materials
 
-1 or -2
-1 for 304SS, -2 for 316SS
Degreased
 
- N or -D
-N for None, -D for Degreased for Oxygen Measurement
Medium Temperature
 
-N or -S or -H
-N ≤ 150 °C, -S ≤ 250 °C, -H ≤ 350 °C
Transmitter
 
-ML1
-ML3
-MR2
-NL1
-NL3
-NR3
Integral transmitter, multi-variable, RS485, pulse
Integral transmitter, multi-variable, RS485, pulse, 4 wire 4~20mA
Remote transmitter (dual display), multi-variable, RS485, pulse, 4 wire 4~20mA, 10m cable
Integral transmitter, RS485, pulse
Integral transmitter, RS485, pulse, 4 wire 4~20mA
Remote transmitter (dual display), RS485, pulse, 4 wire 4~20mA, 10m cable
Cable Gland
 
-M
-N
M20 x 1.5
1/2" NPT
Other codes
 
-N
-XXX
No Ex-proof
Select size XXX = 015, 020, 025, 032, 040, 050, 065, 080, 100, 125, 150, 200, 250, 300
Optional Wireless Connectivities
Please specify: LoRaWAN, Sigfox, NB-IoT, 3G, 4G cat1, Sub-GHz
Example
SVF128-MV-3-D1-1-N-S-MR2-M-N-080
AND provide us the process conditions for sizing to verify the flow meter size meet the process conditions.
* Fluid type:
* Flow min/normal/max:
* Pressure min/normal/max:
* Temperature min/normal/max:
* Fluid viscosity:
CATALOGUES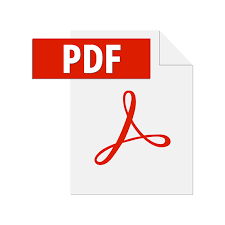 Smart Vortex Flow Meter