Baumer Temperature Gauges
The wide variety of Bourdon thermometers offers solutions for sanitary applications and aggressive industrial processes. A variety of connections, sleeve diameters, bulb lengths allow the instrument to be installed in the most remote locations. Bimetallic and gas expansion thermometers cover ranges from -200 to 800 ° C with a variety of accuracies and compatible with a huge range of thermowells including all design types and materials.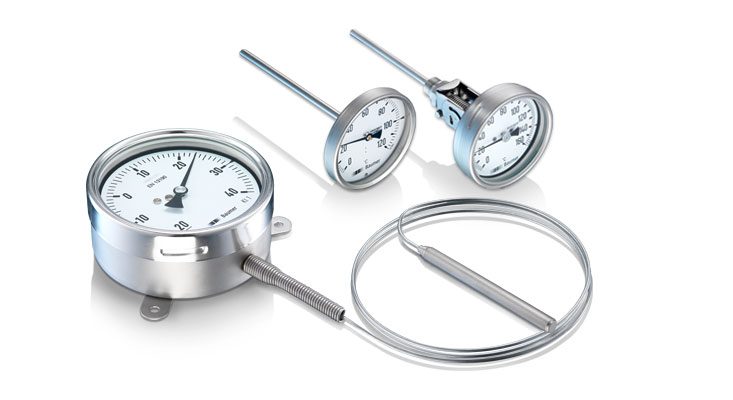 We are partner of Baumer at Vietnam and We supply products of Baumer in Vietnam Market.
Configure your product code: TBHI###-2#4.1###.###
HOUSING
Protection rating (EN 60529)
Dial
Pointer

Black, aluminium
Adjustable

Window material
Window gasket
Nominal size
Case material

Stainless steel 1.4301 / AISI 304

Bezel ring material

Stainless steel 1.4301 / AISI 304
TEMPERATURE
Temperature limitation ≤ 400 °C
Temperature limitation > 400 °C
Temperature range

-70°C ... +600°C
-100°F ... +1100°F
ELECTRICAL DATA
Vibrations

IEC 60068-2-6
0.15 mm (10 ... 58 Hz)
2 g (58 Hz ... 150 Hz)
MIL STD 810E, Meth. 514.4
0.015 g2/Hz (10 Hz)
0.015 g2/Hz (40 Hz)
0.00015 g2/Hz (500 Hz)

ATEX

Ex II 2 GDc
(with option 0078)
WETTED PARTS
| | |
| --- | --- |
| Immersion tube material | Stainless steel 1.4571 / AISI 316Ti |
| Minimum immersion length for immersion tube 6 mm | |
| Minimum immersion length for immersion tube 8 mm | |
PERFORMANCE
Accuracy according to EN 13190

up to 250 °C: class 1
above 250 °C: class 2
Interested with this product
Baumer Special Products
| Model | Description | Temperature range | Installed stem length | Protection Rating | Approval |
| --- | --- | --- | --- | --- | --- |
| TBI160 | Bimetal thermometer for process applications | -70 … 600 °C | 100-1000 mm | IP67 | ATEX |
| TSF080 | Remote measurement gas filled thermometers | -200 … 800 °C | 100-1000 mm | IP65 | ATEX |
| TSS080 | Direct reading gas filled thermometers | -200 … 800 °C | 100-1000 mm | IP65 | ATEX |
| TB040 | Small size stainless steel thermometer | -30 … 500 °C | 60-400 mm | IP52 |   |
| TBA072 | Pipe mounted thermometer | -20 … 120 °C | n/a (clamp-on pipe) | IP50 |   |
| TBHA100 | Pipe mounted thermometer for isolated pipes up to 2" | -20 … 160 °C | n/a (clamp-on pipe) | IP50 |   |
| TBW100 | Bimetal thermometer with conical immersion tube, IP65 | -20 … 250 °C | 62 mm | IP65 |   |
| TSF063 & TSF160 | Remote measurement gas filled thermometers | -200 … 800 °C | 100-1000 mm | IP65 | ATEX |
| TSS063 & TSS250 | Direct reading gas filled thermometers | -200 … 800 °C | 100-1000 mm | IP65 | ATEX |
| TB100 | Bimetal thermometer, Installed lenght >= 100 mm | 30 … 500 °C | 100-1000 mm | IP52 |   |